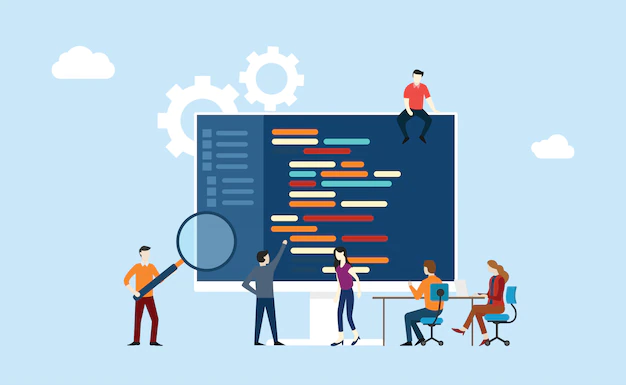 Global development is becoming more common with diversity in culture. Country borders have become a mere formality, which has led to an increase in the popularity of outsourcing. This is an economical solution. In this competitive world, there is rapid growth in the software market.
In this scenario, outsourcing has helped many companies around the world. This reduces administrative, search, and recruiting costs. A website development company uses outsourcing services to bridge the technological efficiency gap.
Benefits of a Dedicated Development Team
The world is rapidly filling with information surrounding us. This obstructive wave of data requires us to collect important information. In a data-driven world, it's important to figure out how best to analyze and use it. Thus, businesses around the world are hiring dedicated teams.
Focused Method and Qualitative Group Interaction
A dedicated development team is fully committed to the company's cause. They participate in the policy, goals, culture, and values of the company. They work by the company's preferred methodologies and management practices.
This level of participation allows the team to better understand the project. This makes it more productive and efficient.
Economical and accessible to talent
Gathering a team for a company project is difficult and stressful on the budget. It takes a lot of resources and time to select the right candidates for a project. In addition to significant equipment costs, HR, IT support, and training are also required. This way, hiring a team is cost-effective and everyone gets instant access to talent. Here, all capable and potential candidates are already in the same room to start working on the project.
Manage your project your way
Clients also retain control over the selection and management of the project team they wish to hire. The client company will supervise the dedicated team, as well as set up the workflow. Customers have every right to evaluate performance, manage tasks, communicate and track progress. In essence, hiring a team gives you the same control as employees of your own company.
Increased agility and performance
The development team concentrates on the task of one company, which helps to concentrate on one project. This improves the productivity of the dedicated team.
The dedicated development team consists of experienced teammates who have already worked together. They have common goals, and this increases their ability to adapt to working with clients.
The large list of available developers
The company offers qualified teams of engineers with extensive experience in the field of website design. They have proven their skills and niche skills in all areas. This creates a development team with great players and the right experience.
They are ideally suited to the requirements of a client company with knowledge of specific technologies.
Immediate start
This model makes a shorter time gap between the moment a client decides to start a project and the start of the actual task.
Full economic transparency
A dedicated development team plans and works on a project with communication. They have accurate cost estimates.
Thus, the customer company controls the scope of the task and knows exactly what it pays for. This helps them plan future budgets accordingly.  According to statistics, in 2019 entry-level developers in the US had a salary of $112,523 per year.
Scalable commands and high flexibility
Flexibility comes to the rescue when there is a tight schedule within a project. This team adapts to a load of tasks and adjusts and optimizes the size of the team to achieve new goals. Thus, a dedicated development team provides scalable teams and very flexible management options.
Well-established processes and powerful data security management
Such a team always takes a dynamic approach to process administration. This includes project planning and rule analysis. This is also reflected in the company's quality services and high information security. In companies with a dedicated development team, there are instrumental mechanisms that give customers full authority. Together they provide transparent communication, planning, comprehensive analysis, high responsibility, and team management.
Conclusion
A dedicated development team puts their time and effort into a single client project. In this process, companies collaborate with this team. They require collaboration between project managers, IT professionals, designers, and software developers. To meet the needs, the web design outsourcing company forms the most suitable team. They focus on quantity and quality to meet the specified requirements.