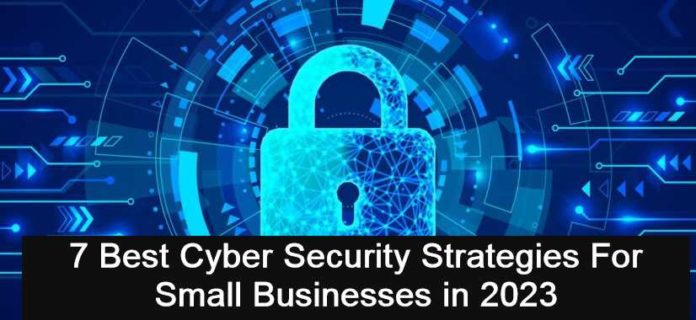 Technological advancements have led to paralleled results for cyber security practices and cybercrime techniques. In fact, recent forecasts have shown that small to medium-sized businesses worldwide are expected to spend $90 billion on cyber security in 2025. However, before making such investments, small businesses must thoroughly understand cyber security's importance. 
Why Do Small Businesses Need Cyber Security?
Regardless of their size, businesses have weaknesses that can be exploited by cyber security. Such weaknesses can lead to significant financial and reputational damages that can hinder the operational continuity of businesses. However, when it comes to small businesses, cybersecurity risks can be reduced if efficient security protocols are implemented.
Cybersecurity protocols allow small businesses to limit any third-party vulnerabilities that may exist. It also allows them to secure customer information, which helps them build trust and reputation. In addition, it has other benefits, such as regulatory compliance, efficient data management, streamlined access control, and minimized downtime.
7 Best Cyber Security Strategies For Small Business 
Cybercriminals use various attacks, including phishing, sniffing, or malware, to target and exploit network vulnerabilities of small businesses. However, understanding and implementing cybersecurity strategies can help small businesses reduce cybersecurity risks. Some of the best cyber security strategies for small businesses include:
Enabling Firewall 
Firewall protection is one of the most efficient cyber security solutions for small businesses to protect themselves against attacks. Using firewalls allows businesses to protect their website and organizational data from unauthorized users. It allows them to monitor traffic and inspect network packets.
It also helps small businesses protect company networks and systems against any trojans that hackers use to collect information. In addition, some of the many benefits of a firewall include enhanced privacy and access control, protection from phishing attacks, and alerts about malicious activity.
Using Identify and Access Management Solution
Using identity and access management solutions is another core component of cybersecurity. These solutions help small businesses limit, monitor, and control access to data and organizational resources. In addition, they also help prevent and identify unauthorized sources attempting to gain access.
These solutions use multi-factor authentication, which enables small businesses to implement authorization protocols such as facial recognition, iris scanning, and biometric verification. They also help eliminate the use of exploitable passwords and help mitigate insider threats.
Ensuring Network Security
Network security protocols use various techniques such as firewalls, encryption, and access control to secure all layers of a business's network. They allow small businesses to ensure that data is scrambled before being transferred and that unauthorized users cannot access it.
Small businesses can implement network security by implementing multi-factor authentication, securing wireless connections, and using antivirus software. Some of the many benefits of network security include risk mitigation, increased productivity, and the ability to ensure business continuity. 
Training Employees 
Training employees for the implementation of cyber security allows small businesses to develop a cohesive course of action that must be followed if cyberattacks prevail. However, when developing strategies for employee training, small businesses must emphasize their security principles.
In addition, they need to consider each employee's responsibility toward company data and customer information. They also need to ensure that employees know the proper notification procedures for potential threats. Lastly, employees must also be trained to identify any malicious emails or links that may damage the company network.
Implementing Cloud Security 
Implementing cloud security practices is another essential component of cyber security. Third-party cloud-based solutions are often the most vulnerable due to the lack of visibility. Therefore, developing a cloud security strategy is critical when using such solutions.
There are several things that small businesses must include when developing a cloud security strategy. First, businesses must focus on implementing end-to-end encryption for protection against breaches and ransomware. In addition, they also need to conduct access and vulnerability assessments and must implement secure data transfers.
Prioritizing Data Protection 
When implementing cyber security, small businesses must develop a strategy for prioritizing data protection. When developing this strategy, they must determine which organizational data is critical, who has access to it, and where it's being used.
Once the data has been identified, small businesses can prevent unnecessary remote access. In addition, they can also use multi-factor authentication to ensure that only verified users can access the data. This will help limit the number of vulnerabilities that cybercriminals can exploit.
Disaster Recovery (DR) Plan 
Lastly, developing and implementing a DR plan is critical to cybersecurity. It allows small businesses to define the required course of action that needs to be taken to ensure business continuity after a breach. In addition, to improve the cyber security posture of a small business, DR plans also have other benefits.
Some of these benefits include improved productivity due to the allocation of responsibilities and minimized downtime. However, small businesses must consider the most critical assets when implementing DR plans. They must also identify employees responsible for accessing, managing, and controlling these assets.
Key Takeaways 
Cybercriminals often use a variety of attacks to exploit vulnerabilities. Small businesses, therefore, must gain an in-depth understanding of cybersecurity practices to develop effective strategies. Some of the best cyber security strategies include training employees, implementing network security, and developing a DR plan.