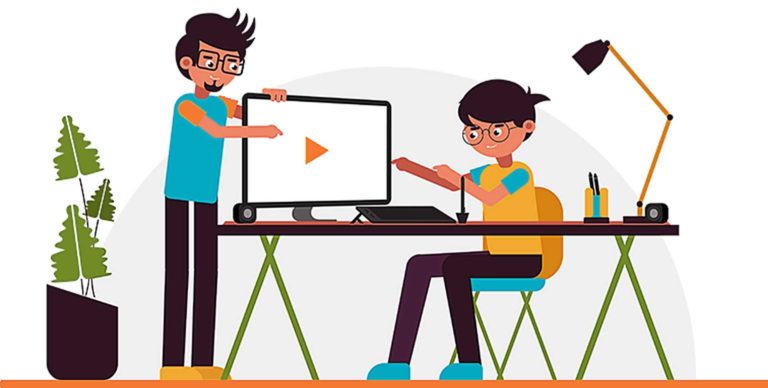 Explainers can be a great tool for those who want to promote their business, share the benefit of their product or service with potential consumers, and reveal themselves in an interesting manner. In addition to these traits, good explainer videos also have a high success rate for developing customers.
It's becoming more and more popular to use video explainers nowadays. They can be found on blog homepage, landing page, important product pages and even in social media feeds. They can also be used for presentations, events, & crowdfunding campaigns.
An explainer video is a key tool in your marketing arsenal. It's like a brochure, only it's engaging and will have people talking about your brand. A good explainer video should cover all the salient points of your message in a creative way and provide insight into it to support your brand
With customers spending more time consuming video content, it is becoming increasingly important for companies to shift their focus toward video and use it to scale their businessOne of the biggest advantages of explainer videos is that they're designed to catch your targeted audience's attention very quickly. You can keep these videos short; most run for about 90 seconds. The focus of that time is on your message and getting the point across quickly.
AI-produced explainer videos allow you to use a lot of creative mediums. The versatility of these videos means they can be used for many different objectives across several business sectors. Making videos is pretty easy-only takes time and effort. Your imagination will decide what type of video you need to make, then you'll need to get things going on the technical side by setting up your camera, getting editing software, and the like. Regardless of what your idea is-a good explainer video can still captivate an audience and make them want to go into more detail about what you're offering.
You can create explainer videos on a range of various social media platforms. Upload one and reach an audience interested in your business offering.Keep in mind that these marketing videos can help convert leads into profit. You can put a couple of these videos in your landing page, about page, or product page and make your conversion go up. By walking through your potential client's experience with your product, you're increasing their odds of becoming a good customer.
Explainer videos are an effective and affordable way to introduce your product or service to your audience. There are many ways you can make an explainer video, but the most important thing is to have a clear story and goal in mind. The goal of the video should be to answer these questions:
Who is your audience?
What problem does your product solve?
What is the benefit of using your product?
This article will teach you how to make a video that explains what your company does in just 5 minutes or less!
What is an Explainer Video and How Does it Actually Work?
An video explainer company Explain Ninja is a short video that explains the basics of a product or service. They are typically used to introduce a new idea, technology, or business concept. Explainer videos are not just for explaining products and services. They can be used to explain ideas and concepts as well – such as how to do something or how something works. In fact, they can even be used for marketing purposes.
Explainer videos provide an engaging way for viewers to understand difficult concepts in a simple and digestible manner. An explainer video is a short video that describes an idea or product. It typically lasts between 2 and 10 minutes and is used to introduce new products, services or ideas into the market.
An explainer video is a short video that explains a product or service in an easy-to-understand way. It can be used to introduce new products, services or ideas into the market.The most common use of an explainer video is in marketing campaigns – they are usually made by companies who have already developed their product but need to get it out to the public and let them know what it's all about.
How to Create Animated Explainers For Your Business
Explainer videos are becoming a popular tool for businesses to use to help their customers understand their products. Explainer videos are a great way for you to explain your product or service in a simple, short and engaging way. But creating an explainer video can be time-consuming and costly. Explainers are a type of video that is used to explain how something works. They are often used in marketing, business, and technology. These videos are usually created by an animator who uses a variety of techniques to create the perfect explainer for your business. In this article, we will explore how you can use this type of video to create animated explainers for your business. We will also discuss some of the most popular animation techniques and tools that are available today.
What Makes a Great Explainer Video?
Explainer videos are a great way to show your audience how to use your product or service. They can be as short or as long as you need them to be and they have the power to make your audience understand what you are trying to say. A great explainer video should have an informative title, should not be too complicated, should be well shot and edited, should have engaging content, and lastly it must provide a call-to-action.
This video provides helpful tips on how to use the Netflix app for both new users and existing ones. It also includes a call-to-action that leads users towards installing the app on their phone or tablet. Explainer videos are a great way to showcase your brand's personality and the value of your product. However, they are not just a one-size-fits-all solution. There are some key factors that make an explainer video compelling and successful.
Why Should You Use a Third-Party Editing Company for Your Explainer Videos?
Many people are afraid to use a third-party editing company for their videos because they think it will make their video look too fancy. However, this is not the case. If you contact a professional editing company, they will give you the opportunity to change your video to make it more personal and attractive. A third-party editing company can also help with other important aspects of your video, such as voice-overs, sound effects, and music. For these aspects, you should check our prices for our services. These features may seem like unnecessary extras, but they can significantly improve the quality of your video.