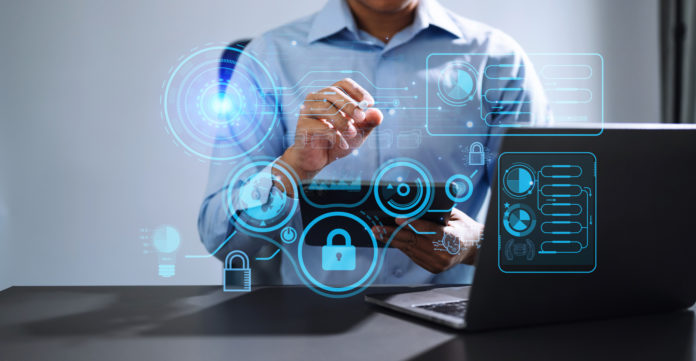 Today, cyber-attacks are advancing both in complexity and efficiency. Attackers now target a broader spectrum of companies, including small and medium enterprises. For this reason, you must understand how to safeguard your operations, regardless of the business size.
For many years, businesses have utilized an in-house information technology (IT) team to protect their digital environment. However, the team might need to be more skilled in keeping up with ever-advancing threats. Hence, companies are now looking for more effective strategies to boost their security architecture. Enter managed cybersecurity.
This article discusses what you need to know about managed cybersecurity. You'll learn what managed security is and how it can boost productivity.  
What Is Managed Cybersecurity?
Simply put, it's outsourcing the security services from a third-party provider. They'll implement, monitor, and manage your overall cybersecurity architecture. The provider will undertake crucial functions such as security assessments, emergency response, and round-the-clock monitoring.
Over the years, there have been many providers you can choose from. Hence, it can be challenging to get the ideal one, especially as a newbie. However, you can contact Exigent.net or any reputable local provider to manage your cybersecurity needs. 
It's crucial, however, to conduct enough background checks to gauge your prospective security partner's credibility. Additionally, it's necessary to ascertain whether they're certified to provide the services. This guarantees you quality services, giving you value for your money.
What Are The Benefits Of Managed Cybersecurity?
Here are ways outsourced security services may benefit your business, ultimately boosting productivity:
Regulatory Compliance
There are rules and regulations surrounding cybersecurity architecture. The standards constantly change, making it hard for typical IT teams to keep up. Results: non-compliance fines and damaged public image.
However, a reputable managed cybersecurity provider is experienced and resourceful to ensure you adhere to the set standards. This includes when you're managing customer data, recovering files after an attack, and more. In this way, you can avoid issues such as lost customers and revoked licenses, which could impact your bottom line.
Reduced Costs
Managing your security internally can be a costly venture. You'll have to incur training costs to ensure the team is always up-to-date. Also, it's a must to purchase the necessary equipment and resources. And to cut costs, one might neglect one's cybersecurity tasks, leading to adverse effects in the future.
Delegating the business's security needs to a reputable vendor you trust can save you a considerable amount. Firstly, no upfront costs to purchase costly equipment and technology. Also, they'll ensure you're always up-to-date with ever-growing trends, saving you from downtime and breaching costs.
More Time To Focus On Your Business
More time in your hands to focus on core business tasks is another way managed cybersecurity may boost your business productivity. A reputable vendor will undertake all of your security operations. This includes constant auditing, standard adherence, and updates. Thus, your internal team will have enough time to focus on core business, including innovation.
As an aside, it's crucial to avoid replacing your in-house team completely. Instead, you can encourage the third-party provider to collaborate with your internal IT workforce, improving the overall effectiveness.
Round The Clock Coverage
Cyberattacks can sometimes occur outside regular working hours, such as at night or over the weekend. Thus, if you're relying on your in-house team, it might be outside their schedule when an attack occurs.
On the other hand, a cybersecurity company monitors your system 24/7. Hence, detecting active attacks such as fraud will be easier before they cause any damage. Also, it'll be easier to deploy the recovery plan. This can save you from total shutdown, which can harm your production line.
When Do You Need Managed Cybersecurity Services?
Here are signs that you need to start delegating your security needs to a reputable vendor:
When You Have A Hybrid Workforce
Today, the workforce can work from anywhere and anytime. Although a remote environment offers a range of benefits, it also exposes you to several risks. For instance, an attacker can infiltrate unsecured personal devices in home offices and access business-sensitive data. 
Outsourced services will play a massive role in ensuring a robust security architecture. It can also train your hybrid workforce to respond to attacks and mitigate risks.
When Serving A High-Risk Industry
Almost every sector faces cyber threats, but some are more susceptible than others. They include finance, healthcare, government, and education. The provider will boost your security to avoid exposing sensitive data to attackers. Also, it'll make it easier to adhere to the set requirements.
Bottom Line
As discussed above, cyberattacks are advancing at an alarming rate. Thus, it's crucial to understand how you can boost your security. Managed cybersecurity may hugely influence safety. Also, it may save you costs, and ensure regulatory compliance, ultimately increasing productivity.